Book:
God's Bible Pathway For Children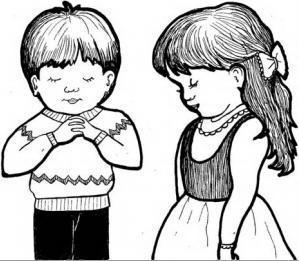 Jesus gave us the following example of how to pray in Matthew 6:9-13. Therefore, you are to pray after this manner:
"Our Father Who is in heaven, hallowed be Your name;
Your kingdom come; Your will be done on earth, as it is in heaven;
Give us this day our daily bread,'
And forgive us our debts, as we also forgive our debtors,'
And lead us not into temptation, but rescue us from the evil one. For Yours is the kingdom and the power and the glory forever. Amen. "
This is an example of how to pray, but we don't need to just repeat these exact words. We need to praise God and ask for forgive­ness of our sins. Then tell Him what we need and thank Him for all He is doing for us.