Feast of Tabernacles & Last Great Day 2017
Daytona Beach, Florida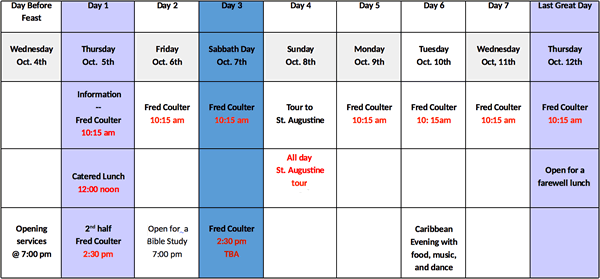 Printable Version (PDF)
Contact Nolan Joseph via email
Day 1. The cost is $15 for adult and $6 for children under 10 years old. Gratuity is included.
Sermonettes and special music will be announced during the Feast.
Offerings taken up on the First and the Last Days.
The Caribbean Evening starts at 6:30pm. Enjoy an evening of Caribbean food, music & dance.
The mall is across the street and lots of eateries are close by.
Orlando Theme Parks and St. Augustine Historic Attractions are about an hour to an hour and a half away.
The airport is 5 minutes away.
We can discuss the schedule and make changes during the Feast.
Feast Address: Hampton Inn & Suites Airport-International Speedway
1715 W International Speedway, Daytona Beach, FL 32114
Phone: 386-257-4030