Book:
A Harmony of the Gospels - In Modern English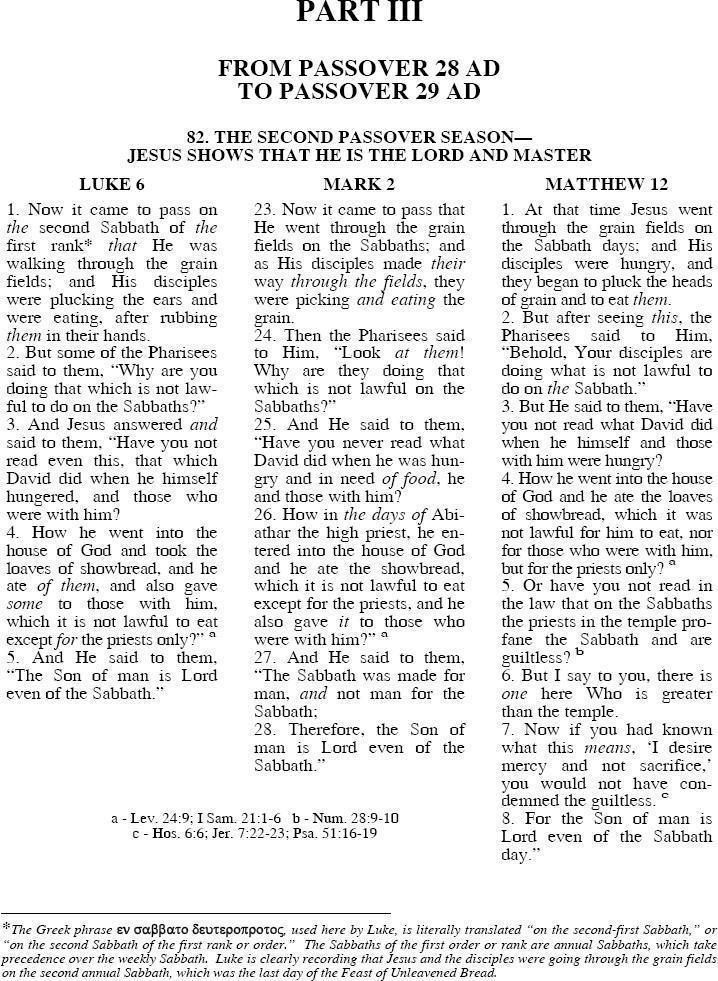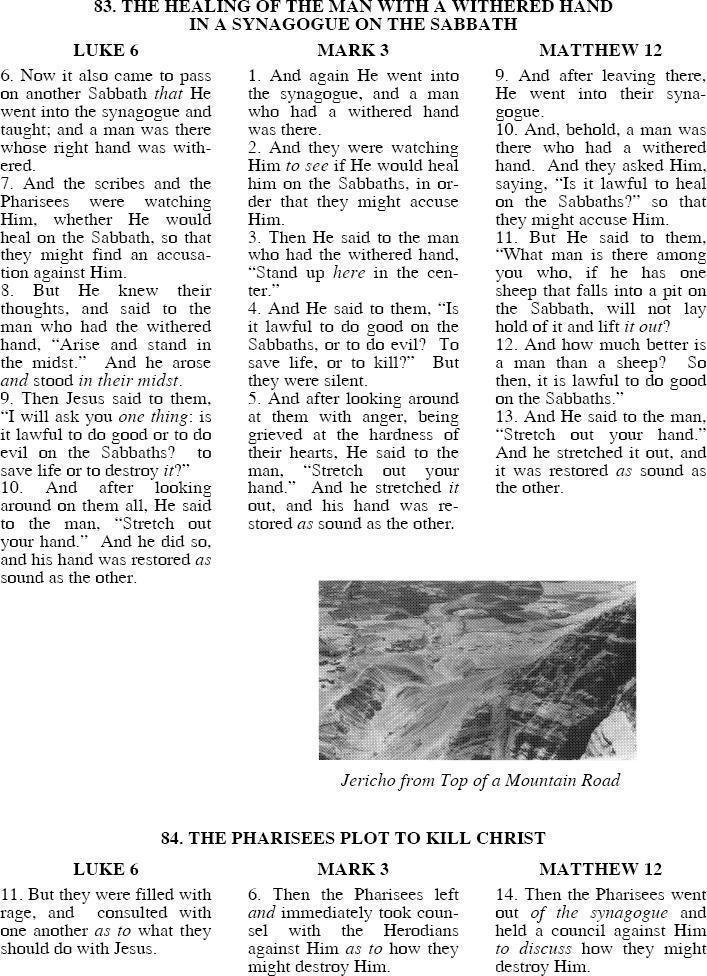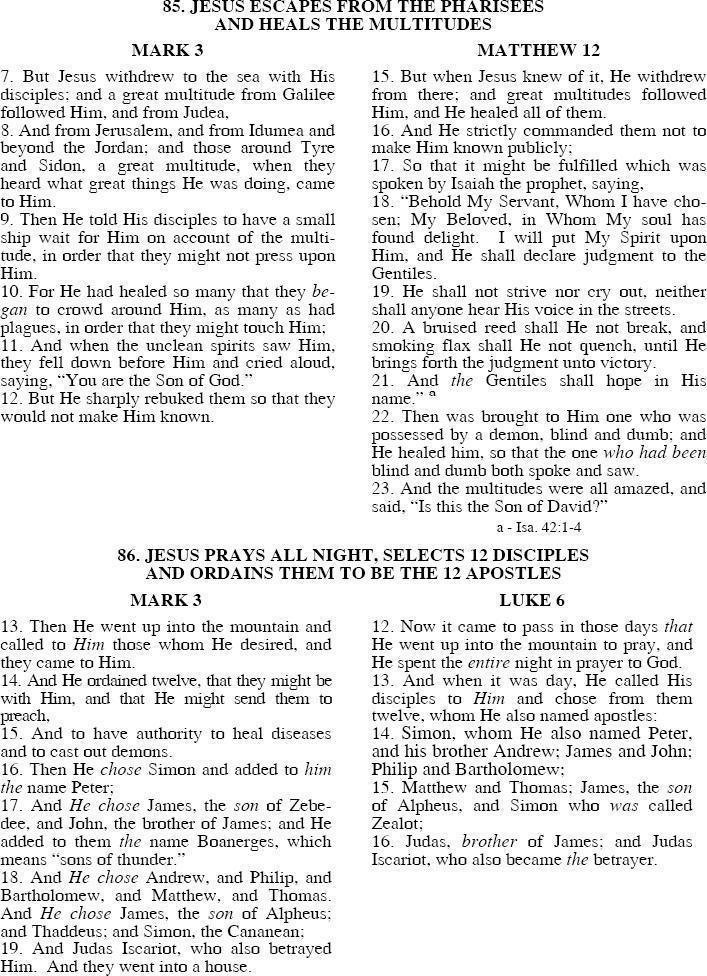 87. JESUS COMES DOWN FROM THE MOUNTAIN WITH HIS DISCIPLES AND HEALS A MULTITUDE
LUKE 6
17. And after descending with them, He stood on a level place with a crowd of His disciples; and a great multitude of people from all Judea and Jerusalem, and from the seacoast of Tyre and Sidon, came to hear Him and to be healed of their diseases;
18. And those who were tormented by unclean spirits also came; and they were healed.
19. And all the crowd sought to touch Him, for power went out from Him and healed all.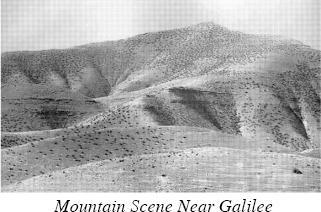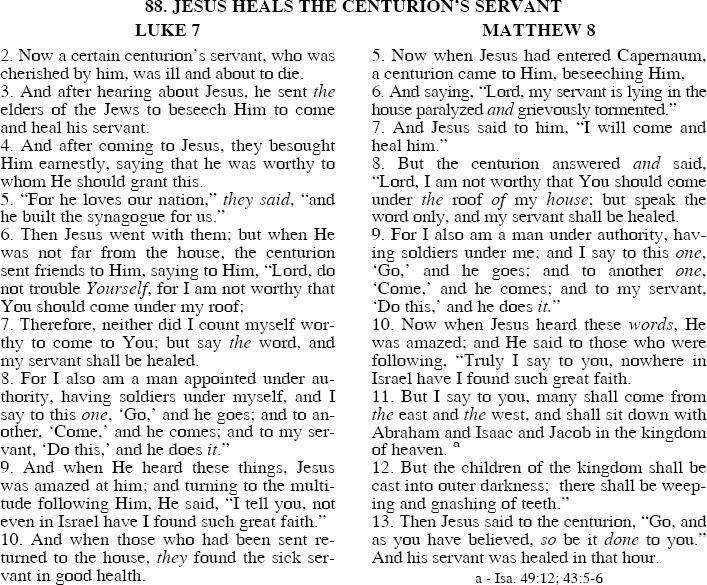 89. THEN JESUS COMES TO A HOUSE AT CAPERNAUM
MARK 3
20. Then a multitude gathered together again, so that they were not able even to eat bread.
21. And after hearing of it, those who were contrary to Him went to restrain Him; for they said, "He is out of His mind!"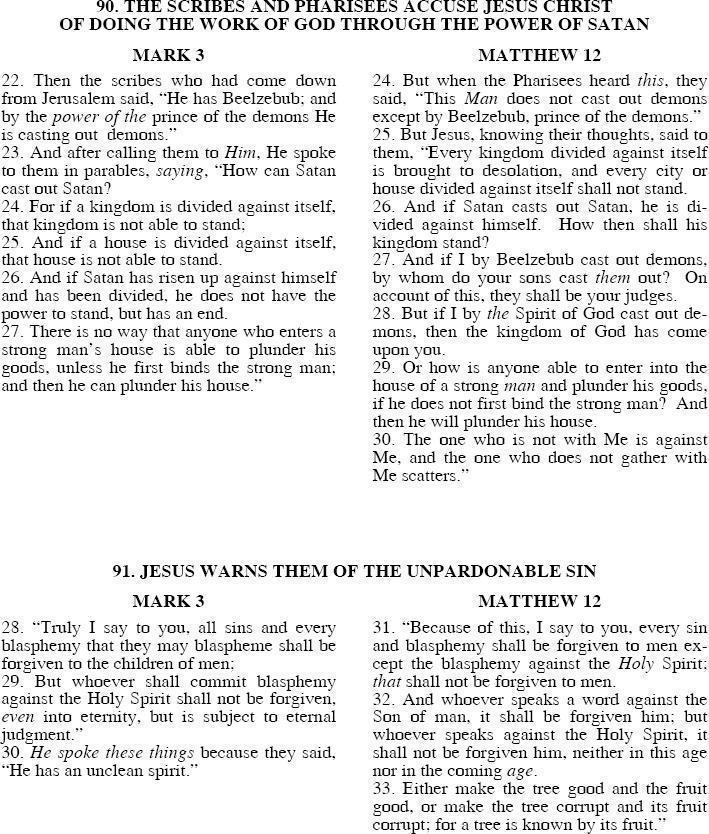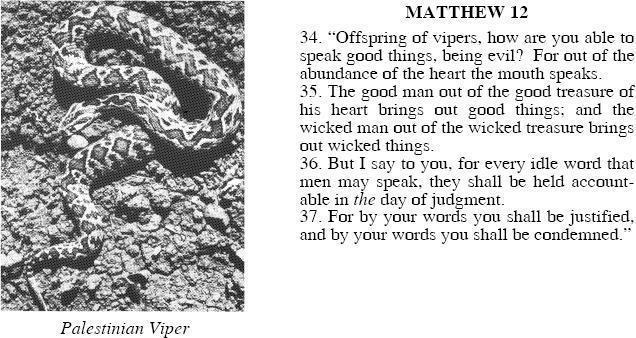 92. THE SCRIBES AND PHARISEES SEEK A SIGN
MATTHEW 12
38. Then some of the scribes and Pharisees answered, saying, "Master, we desire to see a sign from You."
39. And He answered and said to them, "A wicked and adulterous generation seeks after a sign, but no sign shall be given to it except the sign of Jonah the prophet."
93. THE SIGN OF JONAH TO BE THE ONLY SIGN GIVEN
MATTHEW 12
40. "For just as Jonah was in the belly of the whale three days and three nights, in like manner the Son of man shall be in the heart of the earth three days and three nights. a
41. The men of Nineveh b shall stand up in the judgment with this generation and shall condemn it, because they repented at the proclamation of Jonah; and behold, a greater than Jonah is here.
42. The queen of the south c shall rise up in the judgment with this generation and shall condemn it, because she came from the ends of the earth to hear the wisdom of Solomon; and behold, a greater than Solomon is here."
a - Jonah 1:17; 2:1; b - Jonah 3:5-10; c - I Kings 10:1-13; II Chron. 9:1-12
94. THAT WICKED GENERATION LIKENED TO WICKED SPIRITS
MATTHEW 12
43. "But when the unclean spirit has departed from a man, it goes through dry places seeking rest, but finds none.
44. Then it says, 'I will return to my house, from which I came out.' And after coming, it finds it unoccupied, swept and set in order.
45. Then it goes and takes with it seven other spirits more wicked than itself, and they enter in and dwell there; and the last state of that man is worse than the first. Likewise shall it also be with this wicked generation."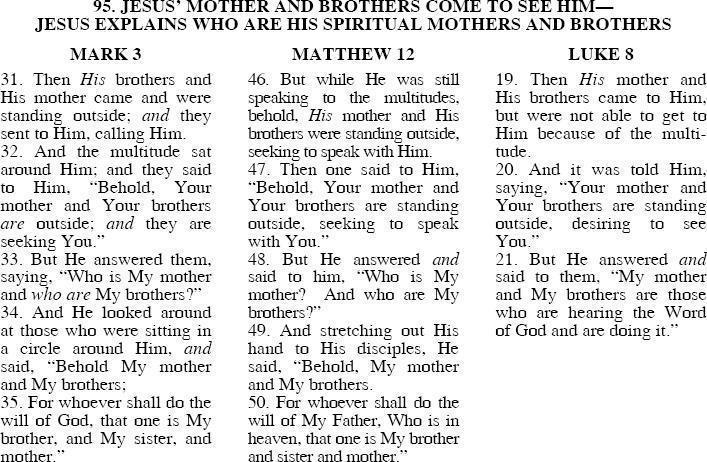 96. THE ONLY SON OF A WIDOW IS RAISED FROM THE DEAD BY JESUS
LUKE 7
11. Now it came to pass on the next day that He went into a city called Nain; and many of His disciples went with Him, and a great multitude.
12. And as He drew near to the gate of the city, behold, one who had died was being carried out, an only son to his mother, and she was a widow; and a considerable crowd from the city was with her.
13. And when the Lord saw her, He was moved with compassion for her and said to her, "Do not weep."
14. And He came up to the bier and touched it, and those who were bearing it stopped. Then He said, "Young man, I say to you, arise!"
15. And the dead man sat up and began to speak, and He gave him to his mother.
97. THE PEOPLE ACKNOWLEDGE JESUS TO BE A GREAT PROPHET
LUKE 7
16. Then fear seized everyone, and they glorified God, saying, "A great prophet has risen up among us," and, "God has visited His people."
17. And this report about Him went out into all Judea and all the country around.
18. Then John's disciples brought word to him about all these things.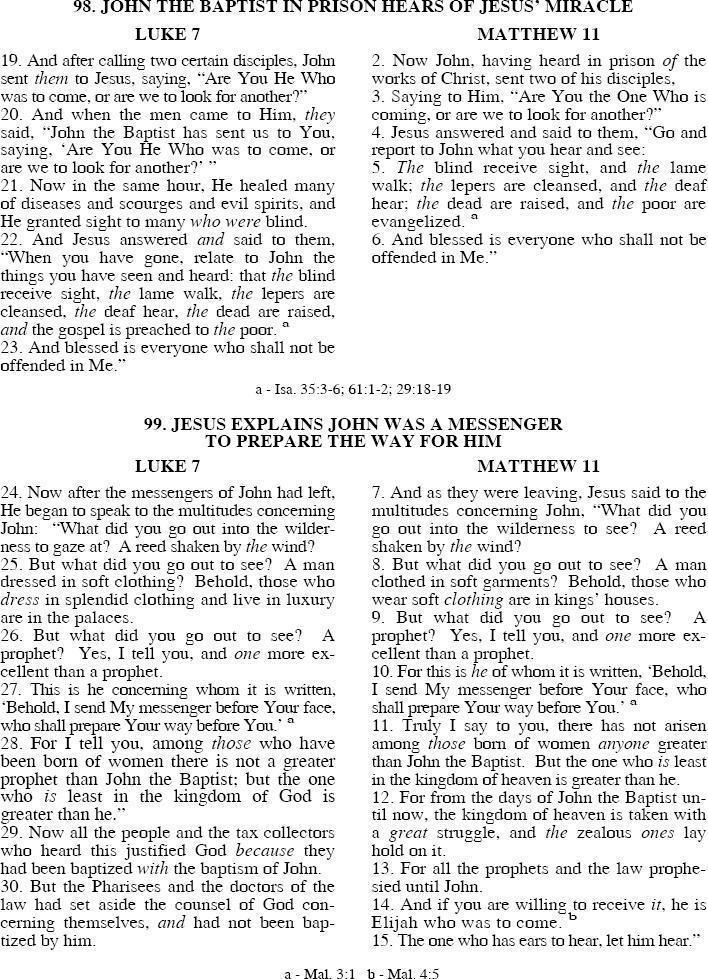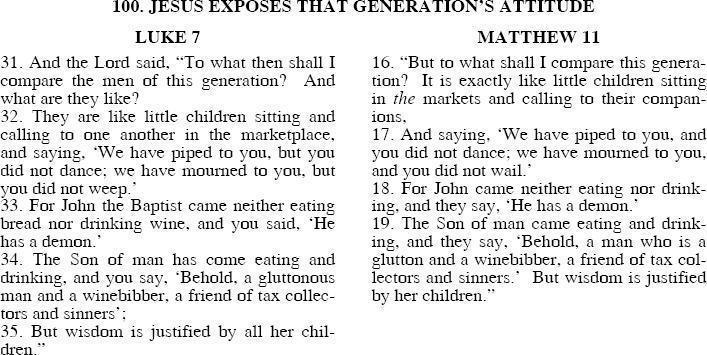 101. JESUS CORRECTS THESE CITIES FOR THEIR LACK OF REPENTANCE
MATTHEW 11
20. Then He began to castigate the cities in which most of His miracles had taken place, because they did not repent:
21. "Woe to you, Chorazin! Woe to you, Bethsaida! For if the miracles that have taken place in you had taken place in Tyre and Sidon, they would have repented long ago in sackcloth and ashes.
22. But I tell you, it shall be more tolerable for Tyre and Sidon in the day of judgment than for you.
23. And you, Capernaum, who have been exalted to heaven, shall be cast down to the grave. For if the miracles that have taken place in you had taken place in Sodom, it would have remained until this day. a
24. But I tell you, it shall be more tolerable for the land of Sodom in the day of judgment than for you."
a - Gen. 19:24-25
102. JESUS IS THANKFUL THAT THE FATHER HAS REVEALED THE KINGDOM OF GOD TO SPIRITUAL BABES
MATTHEW 11
25. At that time Jesus answered and said, "I praise You, O Father, Lord of heaven and earth, that You have hidden these things from the wise and intelligent, and have revealed them to babes.
26. Yes, Father, for it was well pleasing in Your sight to do this.
27. All things were delivered to Me by My Father; and no one knows the Son except the Father; neither does anyone know the Father except the Son, and the one to whom the Son personally chooses to reveal Him.
28. Come to Me, all you who labor and are overly burdened, and I will give you rest.
29. Take My yoke upon you, and learn from Me; for I am meek and lowly in heart; and you shall find rest for your souls. a
30. For My yoke is easy, and My burden is light."
a - Jer. 6:16
103. A WOMAN WASHES JESUS' FEET WITH HER TEARS AND HER HAIR, SHOWING AN ATTITUDE OF LOVE AND REPENTANCE
LUKE 7
36. Now one of the Pharisees invited Him to eat with him. And after going into the Pharisee's house, He sat down at the table.
37. And behold, a woman in the city who was a sinner, when she knew that He was sitting in the Pharisee's house, took an alabaster flask of ointment;
38. And she stood weeping behind Him, and knelt at His feet, and began to wash His feet with her tears and to wipe them with the hairs of her head; and she was ardently kissing His feet and anointing them with the ointment.
39. But when he saw this, the Pharisee who had invited Him spoke within himself, saying, "This man, if He were a prophet, would have known who and what the woman is who is touching Him because she is a sinner."
40. Then Jesus answered and said to him, "Simon, I have something to say to you." And he said, "Teacher, say on."
41. "There were two debtors of a certain creditor; one owed five hundred silver coins, and the other fifty.
42. But when they did not have anything with which to pay him, he forgave them both. Tell Me then, which of them will love him most?"
43. And Simon answered and said, "I suppose the one whom he forgave the most." And He said to him, "You have judged rightly."
44. And after turning to the woman, He said to Simon, "Do you see this woman? I came into your house, and you did not provide any water to wash My feet; but she has washed My feet with her tears and wiped them with the hairs of her head.
45. You did not give Me a kiss; but she, from the time I came in, has not ceased to ardently kiss My feet.
46. You did not anoint My head with oil; but she has anointed My feet with ointment.
47. For this cause, I tell you, her many sins have been forgiven because she loved much. But to whom little is forgiven, he loves little."
48. And He said to her, "Your sins have been forgiven."
49. Then those who were sitting with Him began to say within themselves, "Who is this, Who even forgives sins?"
50. But He said to the woman, "Your faith has saved you. Go in peace."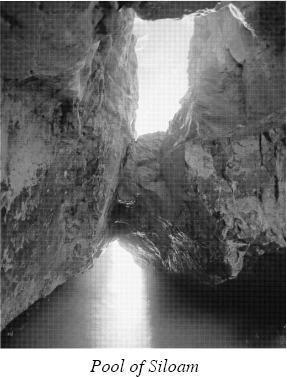 104. AT THE FALL FESTIVAL SEASON IN JERUSALEM, JESUS HEALS A MAN OF A 38-YEAR INFIRMITY ON THE SABBATH
JOHN 5
1. After these things there was a feast* of the Jews, a and Jesus went up to Jerusalem.
2. And there is in Jerusalem at the sheep gate a pool, called Bethesda in Hebrew, which has five porches.
3. And in these porches were lying a great multitude of those who were sick, blind, lame and withered. They were waiting for the stirring of the water.
4. For from time to time, an angel descended into the pool and agitated the water; and the first one to enter after the agitation of the water was made well from whatever disease he had.
5. Now a certain man was there who had been suffering with an infirmity for thirty-eight years.
6. Jesus saw him lying there, and, knowing that he had been there a long time, said to him, "Do you desire to be made whole?"
7. And the infirm man answered Him, "Sir, I do not have anyone to put me in the pool after the water has been agitated. But while I am going, another one steps down before me."
8. Jesus said to him, "Arise, take up your bedroll and walk."
9. And immediately the man was made whole; and he took up his bedroll and walked. Now that day was a Sabbath.
10. For this reason, the Jews said to the man who had been healed, "It is the Sabbath day. It is not lawful for you to take up your bedroll."
11. He answered them, "The One Who made me whole said to me, 'Take up your bedroll and walk.' "
12. Then they asked him, "Who is the One Who said to you, 'Take up your bedroll and walk'? "
13. But the man who had been healed did not know Who it was, for Jesus had moved away, and a crowd was in the place.
14. After these things, Jesus found him in the temple and said to him, "Behold, you have been made whole. Sin no more, so that something worse does not happen to you."
15. The man went away and told the Jews that it was Jesus Who had made him whole.
16. And for this cause, the Jews persecuted Jesus and sought to kill Him, because He had done these things on a Sabbath.
a - Lev. 23:23-44
____________________________________________
*This Feast has been a topic of varying discussion by many students and scholars. Most have supposed that this Feast wasa Passover. But a further examination of the substance and topics of this feast actually shows that it was a fall festivalseason. The topics are the resurrections and the judgments. The first resurrection, the resurrection to eternal life, occursat the second coming of Christ. The resurrection to judgment and/or damnation occurs after the Millennium, as pictured bythe Last Great Day. We find both of these events recorded in the twentieth chapter of Revelation. This festival seasoncould only be the fall festival season. The Feast of Trumpets, the Day of Atonement, the Feast of Tabernacles and the LastGreat Day comprise the entire fall festival season. All of these feasts are known as judgment feasts. Another contextualverification is the pattern of John's writings. Chapters 2 and 3 record the Passover. Chapter 4 has an allusion to Pentecost.Chapter 5 shows the fall festival season. Chapter 6 shows the Passover. Chapters 7-10:21 show the Feast of Tabernaclesand the Last Great Day. The last part of Chapter 10 records the events surrounding the Feast of Dedication in thewinter. Then the rest of the Book of John is devoted to the final Passover, and the resurrection, and the events occurringdirectly afterwards. Following this pattern we see that John wrote in this following sequence: Passover, fall festival season,Passover, fall festival season, Passover. This internal evidence clearly indicates that this Feast in John 5 could benothing other than a fall festival.
105. JESUS WORKS, THE FATHER WORKS; AND HAS GIVEN ALL JUDGMENT AND THE POWER OF RESURRECTION TO JESUS
JOHN 5
17. But Jesus answered them, "My Father is working until now, and I work."
18. So then, on account of this saying, the Jews sought all the more to kill Him, not only because He had loosed the Sabbath,* but also because He had called God His own Father, making Himself equal with God.
19. Therefore, Jesus answered and said to them, "Truly, truly I say to you, the Son has no power to do anything of Himself, but only what He sees the Father do. For whatever He does, these things the Son also does in the same manner.
20. For the Father loves the Son, and shows Him everything that He Himself is doing. And He will show Him greater works than these, so that you may be filled with wonder.
21. For even as the Father raises the dead and gives life, in the same way also, the Son gives life to whom He will.
22. For the Father judges no one, but has committed all judgment to the Son
23. So that all may honor the Son, even as they honor the Father. The one who does not honor the Son does not honor the Father Who sent Him.
24. Truly, truly I say to you, the one who hears My word, and believes Him Who sent Me, has everlasting life and does not come into judgment; for he has passed from death into life.
25. Truly, truly I say to you, the hour is coming, and now is, when the dead shall hear the voice of the Son of God; and those who hear shall live.
26. For even as the Father has life in Himself, so also has He given to the Son to have life in Himself;
27. And has also given Him authority to execute judgment because He is the Son of man.
28. Do not wonder at this, for the hour is coming in which all who are in the graves shall hear His voice
29. And shall come forth: those who have practiced good unto a resurrection of life, and those who have practiced evil unto a resurrection of judgment.
30. I have no power to do anything of Myself; but as I hear, I judge; and My judgment is just because I do not seek My own will but the will of the Father, Who sent Me.
31. If I bear witness of Myself, My testimony is not true.
32. There is another who bears witness of Me, and I know that the testimony that he witnesses concerning Me is true.
33. You have sent to John, and he has borne witness to the truth.
34. Now I do not receive witness from man, but I say these things so that you may be saved.
35. He was a burning and shining light, and you were willing for a time to rejoice in his light.
36. But I have a greater witness than John's; for the works that the Father gave Me to complete, the very works that I am doing, themselves bear witness of Me, that the Father has sent Me.
37. And the Father Himself, Who sent Me, has borne witness of Me. You have neither heard His voice nor seen His form at any time.
38. And you do not have His word dwelling in you, for you do not believe Him Whom He has sent."
_________________________
*The Greek verb
luoo, is properly translated into the English word, "loosed." Luoo means "to loose," as in loosing a law or regulation. In this case, Jesus loosed a law of Judaism that the Jews had added to the commandment of God. In loosing this law of Judaism, He did not break the Sabbath or transgress against the Fourth Commandment, which prohibits working on the Sabbath. Jesus Christ did not abrogate the seventh day as the Sabbath. Rather, He "loosed" the Sabbath from a traditional law of Judaism, which prohibited a person from carrying his bedroll on the Sabbath day.
106. YOU MUST BELIEVE MOSES AND THE SCRIPTURES TO BELIEVE JESUS AND HIS MESSAGE
JOHN 5
39. "You search the Scriptures, for in them you think that you have eternal life; and they are the ones that testify of Me.
40. But you are unwilling to come to Me, that you may have life.
41. I do not receive glory from men;
42. But I have known you, that you do not have the love of God in yourselves.
43. I have come in My Father's name, and you do not receive Me; but if another comes in his own name, you will receive him.
44. How are you able to believe, you who receive glory from one another, and do not seek the glory that comes from the only God?
45. Do not think that I will accuse you to the Father. There is one who accuses you, even Moses, in whom you have hope.
46. But if you believed Moses, you would have believed Me; for he wrote about Me.
47. And if you do not believe his writings, how shall you believe My words?"
107. JESUS TEACHES IN EVERY CITY AND VILLAGE
LUKE 8
1. Now it came to pass afterwards that He traveled through all the land, city by city and village by village, preaching and proclaiming the gospel of the kingdom of God; and the twelve were with Him,
2. And certain women who had been healed of evil spirits and infirmities: Mary who is called Magdalene, from whom seven demons had gone out;
3. And Joanna, wife of Chuza, a steward of Herod; and Susanna, and many others who were ministering to Him from their own substance.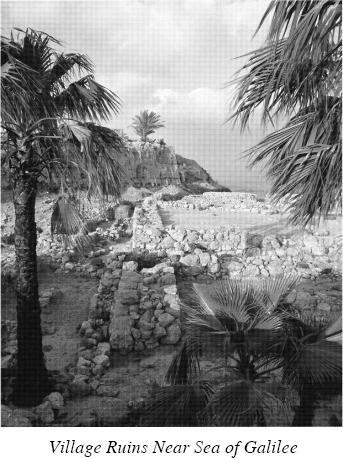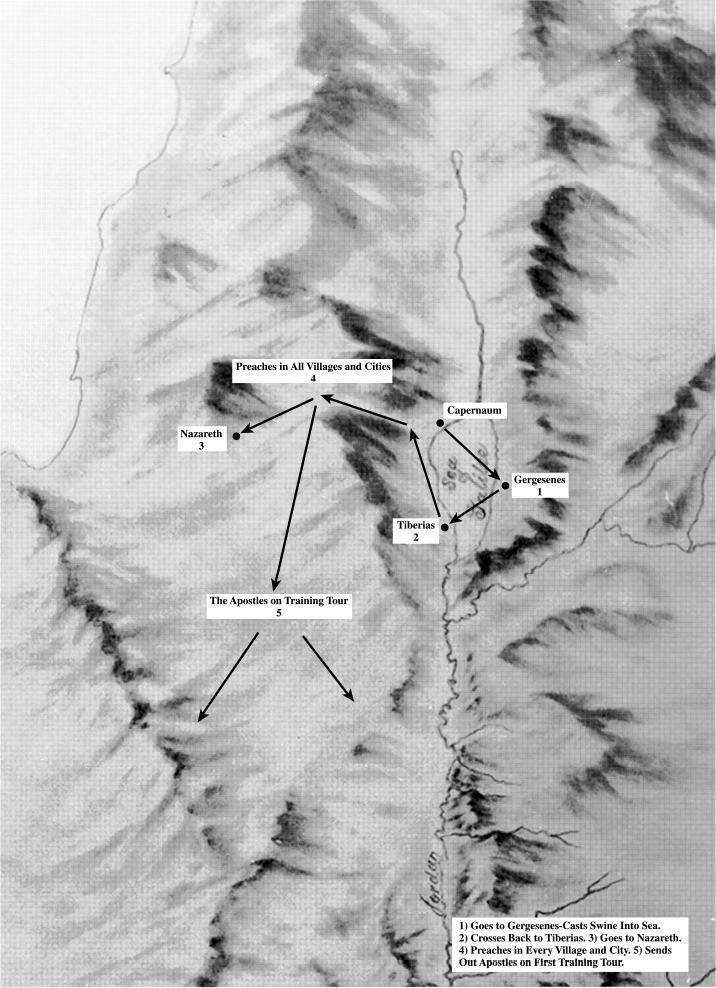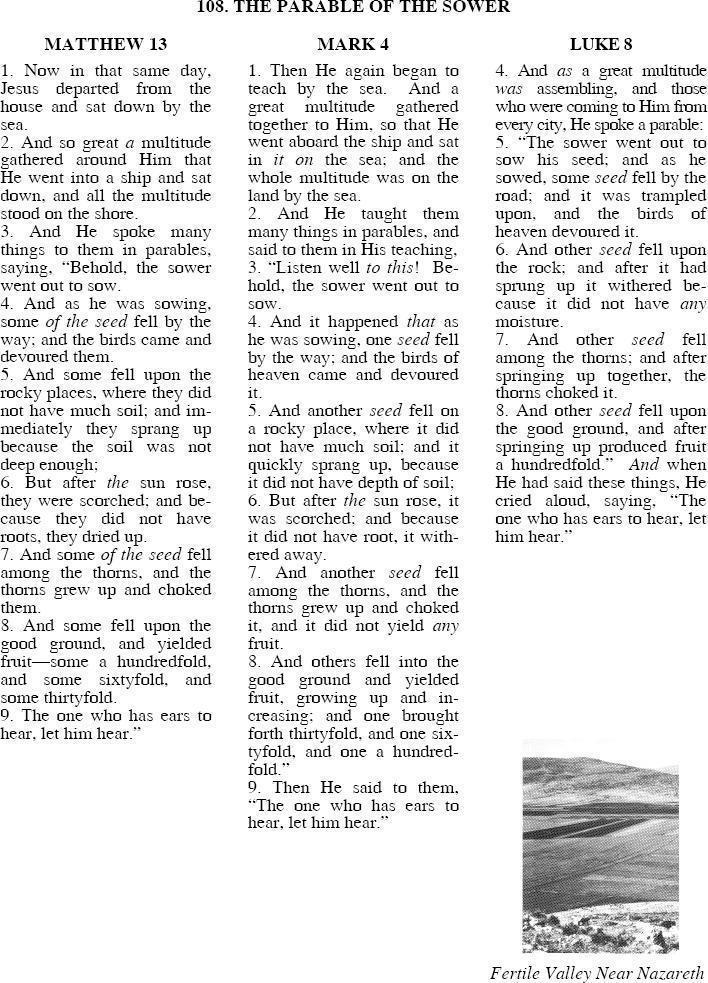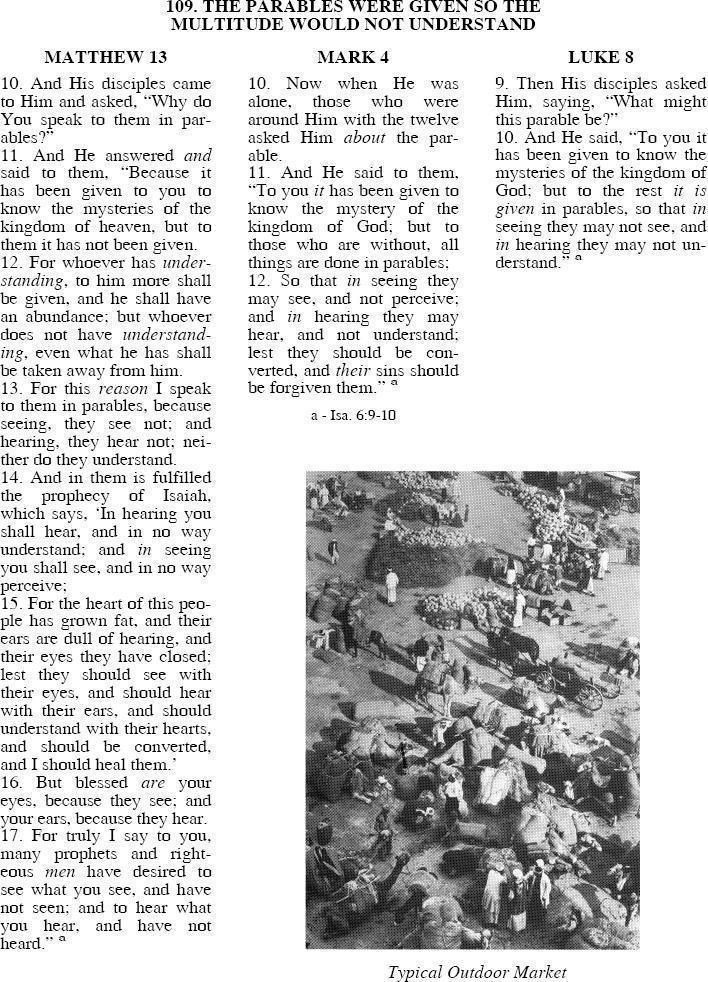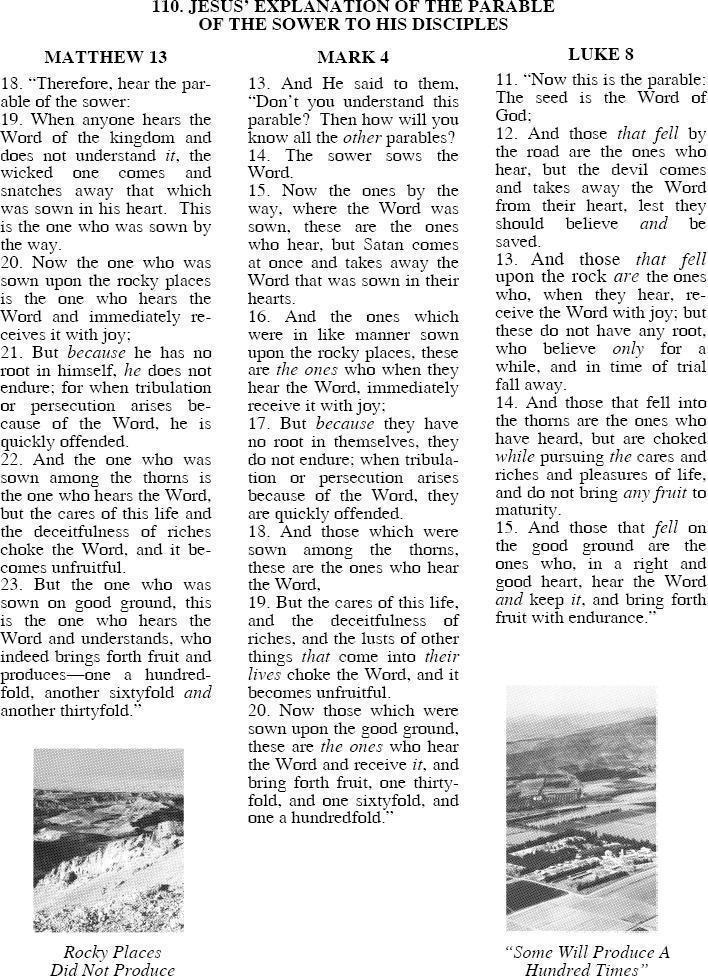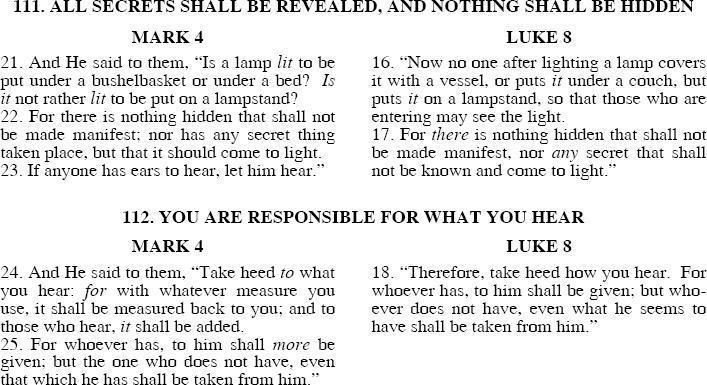 113. THE PARABLE OF THE TARES
MATTHEW 13
24. And He put another parable before them, saying, "The kingdom of heaven is compared to a man who was sowing good seed in his field;
25. But while men were sleeping, his enemy came and sowed tares among the wheat, and went away.
26. Now when the blades sprouted and produced fruit, then the tares also appeared.
27. And the servants came to the master of the house and said to him, 'Sir, did you not sow good seed in your field? Then where did these tares come from?'
28. And he said to them, 'A man who is an enemy has done this.' Then the servants said to him, 'Do you want us to go out and gather them?'
29. But he said, 'No, lest while you are gathering the tares, you also uproot the wheat with them.
30. Allow both to grow together until the harvest; and at the time of the harvest, I will say to the reapers, "Gather the tares first, and bind them into bundles to burn them; but gather the wheat into my granary." ' "
114. A PARABLE OF HOW GOD FULFILLS HIS PURPOSE COMPARED TO A HARVEST
MARK 4
26. Then He said, "The kingdom of God is likened to this: It is as if a man should cast seed upon the earth,
27. And should sleep and rise night and day, and the seed should sprout and grow, but he does not know how.
28. For the earth brings forth fruit of itself, first a blade, then a head, then full grain in the head.
29. And when the grain is mature, immediately he puts in the sickle, for the harvest has come." a
a - Joel 3:13; Rev. 14:15

116. THE KINGDOM OF GOD COMPARED TO LEAVEN
MATTHEW 13
33. Another parable He spoke to them: "The kingdom of heaven is compared to leaven which a woman took and hid in three measures of flour until all was leavened."
117. THE PURPOSE OF PARABLES
MATTHEW 13
34. Jesus spoke all these things to the multitudes in parables, and without a parable He did not speak to them;
35. So that it might be fulfilled which was spoken by the prophet, saying, "I will open My mouth in parables; I will utter things hidden from the foundation of the world." a
a - Psa. 78:2; 49:4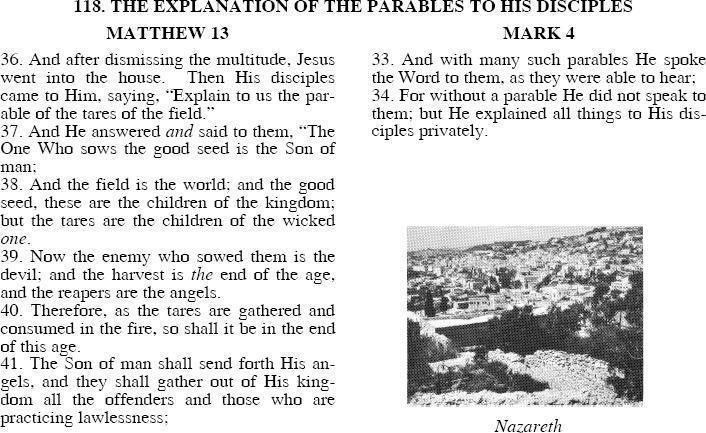 119. THE KINGDOM OF GOD COMPARED TO HIDDEN TREASURE
MATTHEW 13
44. "Again, the kingdom of heaven is compared to treasure hidden in a field; which when a man finds, he conceals, and for the joy of finding it, goes and sells everything that he has, and buys that field."
120. THE KINGDOM OF GOD COMPARED TO THE PEARL OF GREAT PRICE
MATTHEW 13
45. "Again, the kingdom of heaven is compared to a merchant seeking beautiful pearls;
46. Who, after finding one very precious pearl, went and sold everything that he had, and bought it."
121. THE KINGDOM OF GOD COMPARED TO A FISHERMAN'S NET
MATTHEW 13
47. "Again, the kingdom of heaven is compared to a dragnet cast into the sea, gathering in every kind of fish;
48. Which after it was filled was drawn up on shore; and they sat down and collected the good into vessels, and the unfit they threw away.
49. This is the way it will be in the end of the age: the angels shall go out, and shall separate the wicked from among the righteous,
50. And shall cast them into the furnace of fire; there shall be wailing and gnashing of teeth."
122. HIS DISCIPLES UNDERSTOOD THE PARABLES
MATTHEW 13
51. Jesus said to them, "Have you understood all these things?" They said to Him, "Yes, Lord."
52. Then He said to them, "Therefore, every scribe who has been instructed in the kingdom of heaven is like a man who is a householder, who brings forth out of his treasure things new and old."
53. And it came to pass that when Jesus had finished these parables, He departed from there.
MATTHEW 13
42. And they shall cast them into the furnace of fire; there shall be weeping and gnashing of teeth.
43. Then shall the righteous shine forth as the sun in the kingdom of their Father. The one who has ears to hear, let him hear." a
a - Dan. 12:3
123. YOU MUST FOLLOW JESUS IN SPITE OF ALL PERSONAL CIRCUMSTANCES
MATTHEW 8
18. But when Jesus saw great multitudes around Him, He commanded His disciples to depart to the other side.
19. And a certain scribe came to Him and said, "Master, I will follow You wherever You may go."
20. Then Jesus said to him, "Foxes have holes, and birds of heaven have nests; but the Son of man has no place to lay His head."
21. And another of His disciples said to Him, "Lord, allow me first to go and bury my father."
22. But Jesus said to him, "Follow Me, and leave the dead to bury their own dead."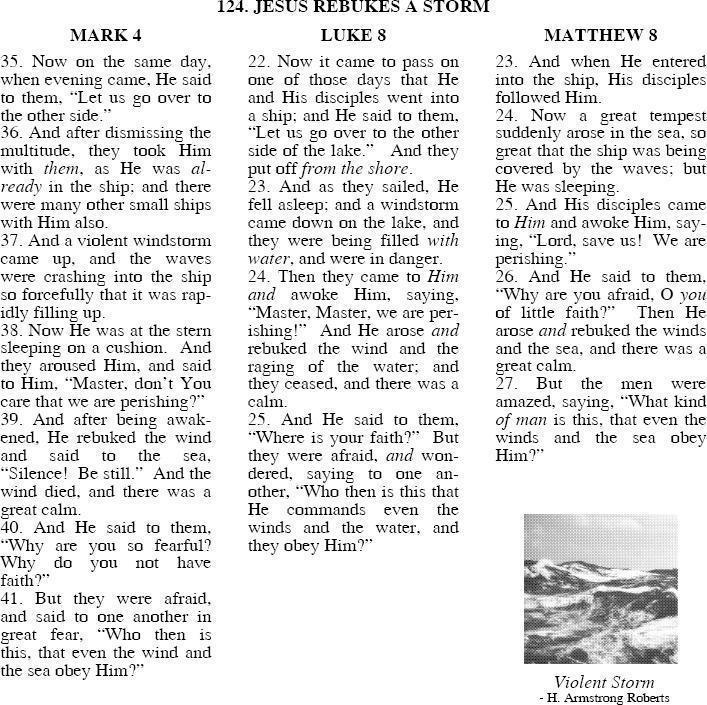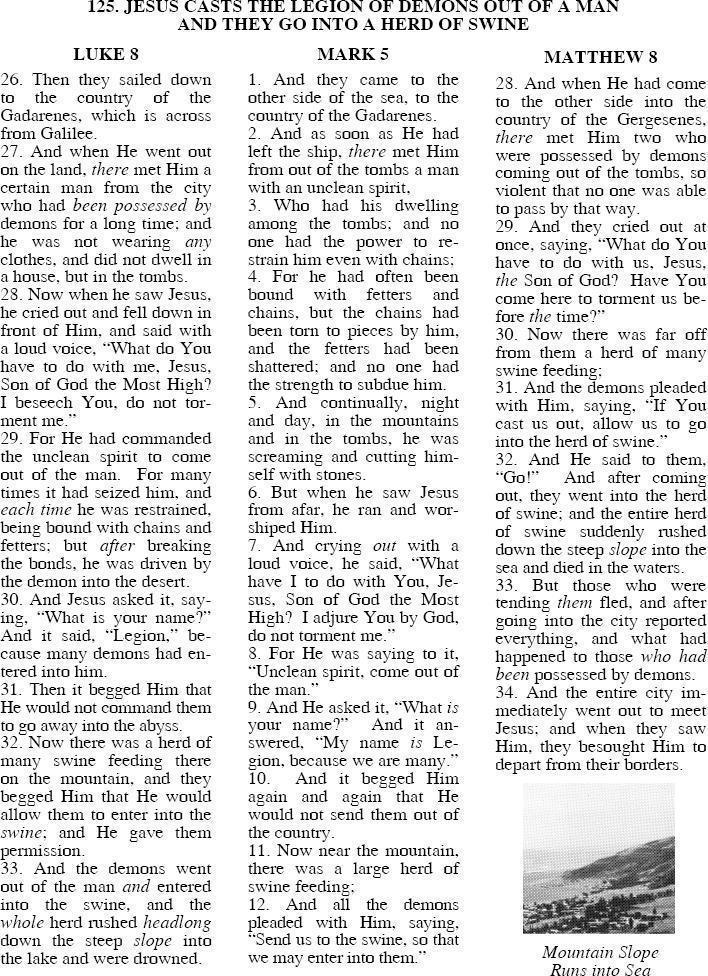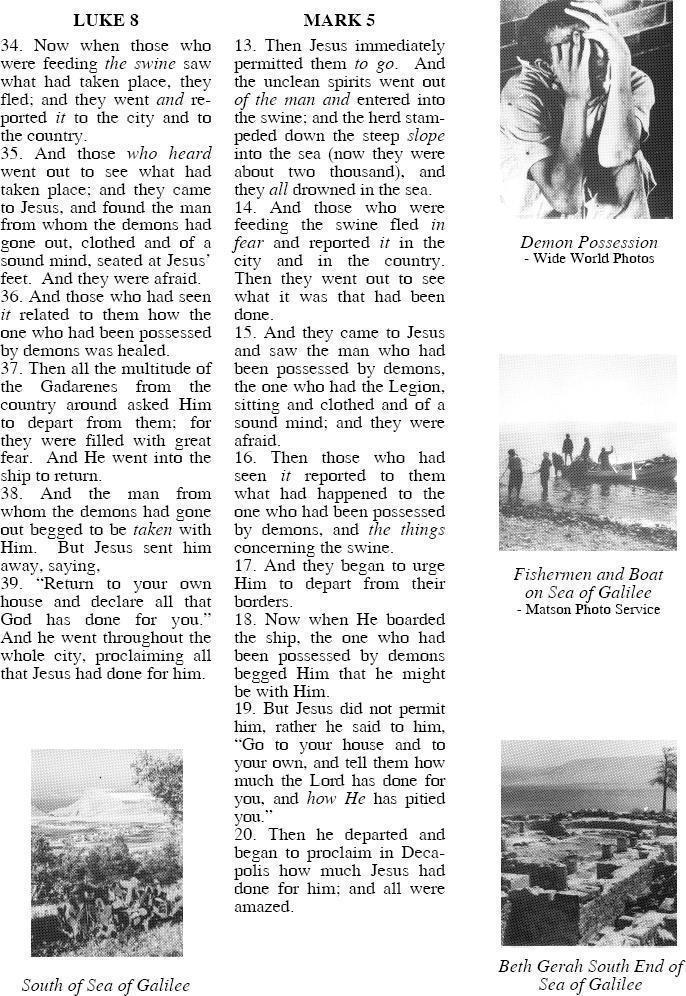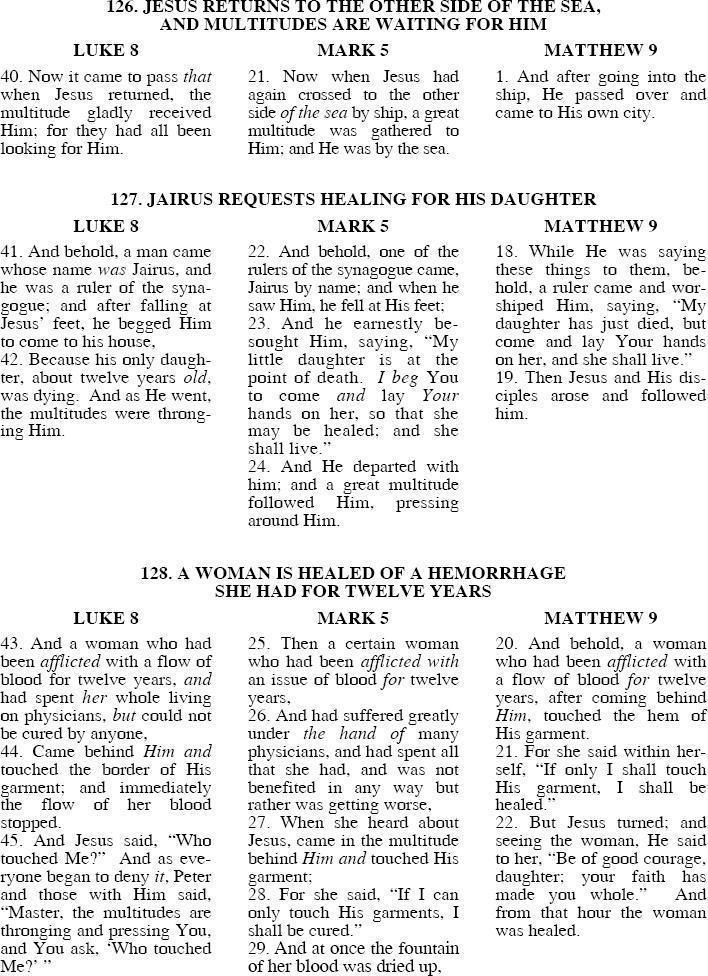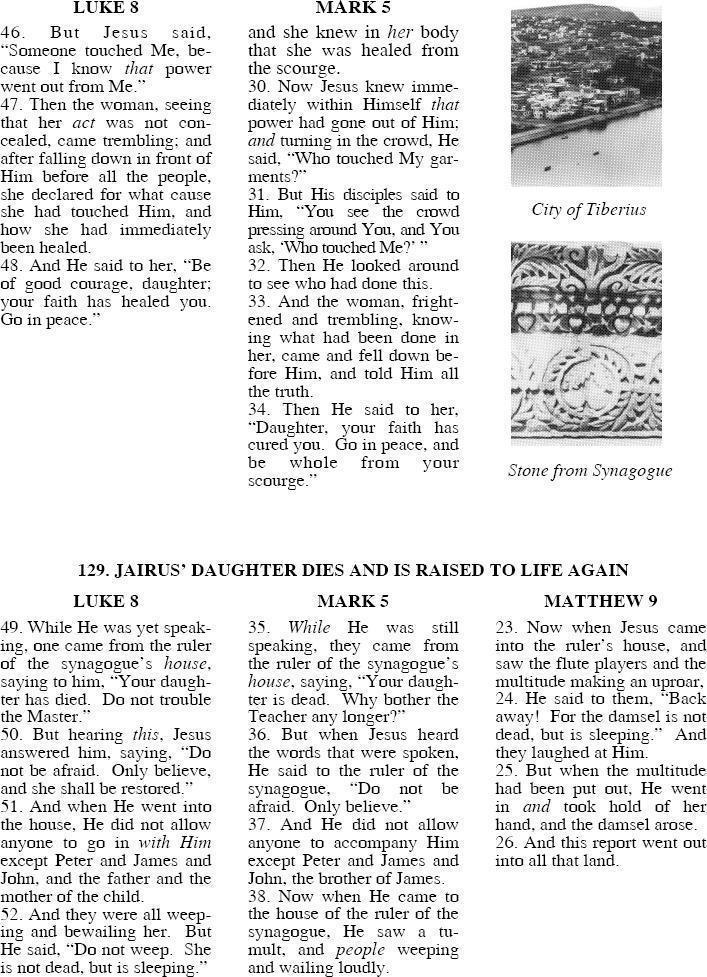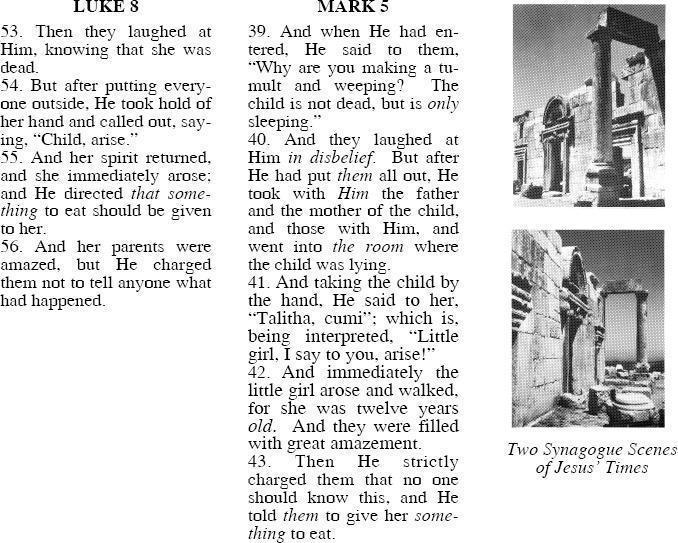 130. JESUS HEALS TWO BLIND MEN
MATTHEW 9
27. Now as Jesus was traveling from there, two blind men followed, crying and saying, "Have pity on us, Son of David!"
28. And after coming into the house, the blind men came to Him; and Jesus said to them, "Do you believe that I have the power to do this?" They said to Him, "Yes, Lord."
29. Then He touched their eyes, saying, "According to your faith be it to you."
30. And their eyes were opened. And He sternly warned them, saying, "See that you do not let anyone know it."
31. But they went out and made Him known in all that land.
131. JESUS HEALS DUMB MAN POSSESSED BY A DEMON
MATTHEW 9
32. And as they were leaving, behold, they brought to Him a dumb man, possessed by a demon;
33. And when the demon had been cast out, the one who had been dumb spoke. And the multitudes wondered, saying, "Never has the like been seen in Israel."
34. But the Pharisees said, "By the prince of the demons He casts out demons."
35. Then Jesus went around to all the cities and the villages, teaching in their synagogues, and preaching the gospel of the kingdom, and healing every disease and every bodily weakness among the people.
132. JESUS IS MOVED WITH COMPASSION FOR THE PEOPLE
MATTHEW 9
36. And seeing the multitudes, He was moved with compassion for them, because they were wearied and scattered abroad, as sheep who did not have a shepherd. a
37. Then He said to His disciples, "The harvest is truly great, but the workmen are few;
38. Therefore, beseech the Lord of the harvest, that He may send out workmen into His harvest."
a - Num. 27:17; Isa. 53:6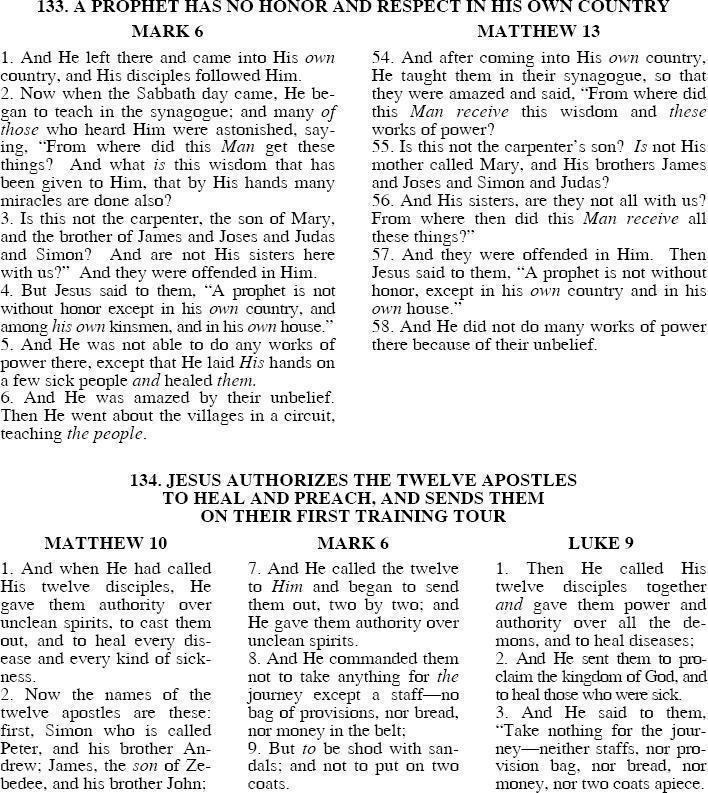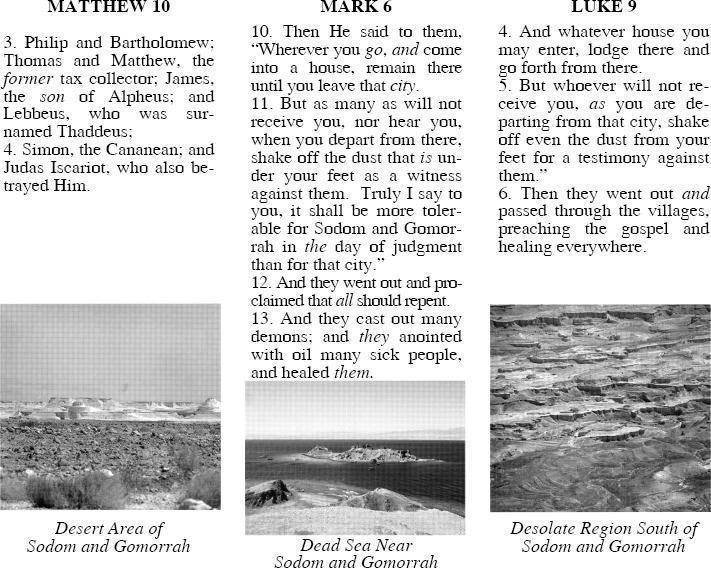 135. COMMISSION TO THE 12 APOSTLES: GO TO THE LOST SHEEP OF THE HOUSE OF ISRAEL
MATTHEW 10
5. These twelve Jesus sent out after commanding them, saying, "Do not go into the way of the Gentiles, and do not enter into a city of the Samaritans;
6. But go instead to the lost sheep of the house of Israel.
7. And as you are going, proclaim, saying, 'The kingdom of heaven is at hand.'
8. Heal the sick. Cleanse the lepers. Raise the dead. Cast out demons. Freely you have received; freely give.
9. Do not provide gold, nor silver, nor money in your belts,
10. Nor a provision bag for the way, nor two coats, nor shoes, nor a staff; for the workman is worthy of his food.
11. And whatever city or village you enter, inquire who in it is worthy, and there remain until you leave.
12. When you come into the house, salute it;
13. And if the house is indeed worthy, let your peace be upon it. But if it is not worthy, let your peace return to you.
14. And whoever shall not receive you, nor hear your words, when you leave that house or that city, shake off the dust from your feet.
15. Truly I say to you, it shall be more tolerable for the land of Sodom and Gomorrha in the day of judgment than for that city."
136. BE WISE AS SERPENTS, HARMLESS AS DOVES
MATTHEW 10
16. "Behold, I am sending you forth as sheep in the midst of wolves. Therefore, be wise as serpents and harmless as doves.
17. But beware of men; for they will deliver you up to councils, and they will scourge you in their synagogues;"
137. WHEN YOU ARE DELIVERED UP FOR A WITNESS,THE HOLY SPIRIT WILL INSPIRE YOU
MATTHEW 10
18. "And you shall also be brought before governors and kings for My sake, for a witness to them and to the Gentiles.
19. Now when they deliver you up, do not be anxious about how or what you should speak; for in that hour it shall be given to you what you shall speak.
20. For it is not you who speak, but the Spirit of your Father that speaks in you.
21. Then brother will deliver up brother to death; and the father, the child; and children will rise up against their parents and have them put to death.
22. And you shall be hated by all for My name's sake; but the one who endures to the end, that one shall be saved.
23. But when they persecute you in this city, escape into another; for truly I say to you, in no way shall you have completed witnessing to the cities of Israel until the Son of man has come.
24. A disciple is not above his teacher, nor a servant above his master.
25. It is sufficient for the disciple that he become as his teacher, and the servant as his master. If they have called the master of the house Beelzebub, how much more shall they call those of his household?
26. Therefore, do not fear them because there is nothing covered that shall not be uncovered, and nothing hidden that shall not be known.
27. What I tell you in the darkness, speak in the light; and what you hear in the ear, proclaim upon the housetops."
138. FEAR GOD, NOT MEN
MATTHEW 10
28. "Do not be afraid of those who kill the body, but do not have power to destroy the life; rather, fear Him Who has the power to destroy both life and body in Gehenna.
29. Are not two sparrows sold for a coin? And yet not one of them shall fall to the ground without your Father taking account of it.
30. But even the hairs of your head are all numbered.
31. Therefore, do not be afraid; you are better than many sparrows.
32. Now then, whoever shall confess Me before men, that one will I also confess before My Father Who is in heaven.
33. But whoever shall deny Me before men, that one will I also deny before My Father, Who is in heaven."
139. JESUS CAME NOT TO BRING PEACE, BUT A SWORD
MATTHEW 10
34. "Do not think that I have come to bring peace on the earth; I did not come to bring peace, but a sword.
35. For I have come to set a man at variance against his father, and a daughter against her mother, and a daughter-in-law against her mother-in-law.
36. And a man's enemies shall be those of his own household."
140. YOU MUST LOVE JESUS MORE THAN YOUR OWN FAMILY
MATTHEW 10
37. "The one who loves father or mother more than Me is not worthy of Me; and the one who loves son or daughter more than Me is not worthy of Me.
38. And the one who does not take up his cross and follow Me is not worthy of Me."
141. YOU MUST LOSE YOUR LIFE IN JESUS
MATTHEW 10
39. "The one who has found his life shall lose it; and the one who has lost his life for My sake shall find it."
142. THE BLESSING OF RECEIVING JESUS CHRIST
MATTHEW 10
40. "The one who receives you receives Me, and the one who receives Me receives Him Who sent Me.
41. The one who receives a prophet in the name of a prophet shall receive the reward of a prophet; and the one who receives a righteous man in the name of a righteous man shall receive the reward of a righteous man.
42. And if anyone shall in the name of a disciple give to one of these little ones to drink a cup of cold water only, truly I say to you, he shall in no way lose his reward."
MATTHEW 11
1. And it came to pass that, when Jesus had finished commanding His twelve disciples, He left there to teach and to preach in their cities.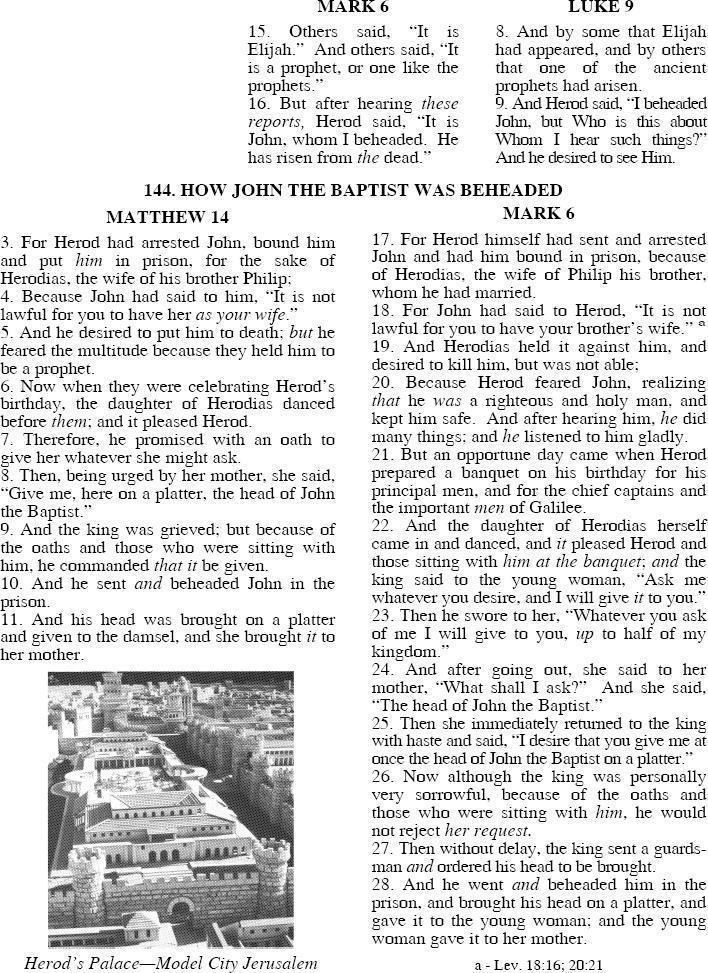 THE LENGTH OF JOHN THE BAPTIST'S MINISTRY
John the Baptist's ministry can be divided into two parts. The first part was his active ministry. The second part was his inactive ministry, which took place during the time he was in prison. He began preaching and baptizing in the spring of 26 AD, close to the Passover, when he was about thirty years old. After John's second Passover, which was the first Passover during Jesus' ministry in 27 AD, (John 2:13-25), he was still baptizing (John 3:23-24). Shortly thereafter he was arrested and imprisoned. This occurred before Jesus came into Galilee preaching the kingdom of God and repentance (Mark 1:14-15). The first part of John's ministry apparently lasted about 13 or 14 months.
Sometime after John's third Passover (the second during Jesus' ministry—see the explanation of Luke 6:1 in the section showing the Passover framework), which was in 28 AD, while in prison, he sent two of his disciples to ask Jesus if He were really the Messiah. (See Luke 7:19-23, Matt. 11:2-6.)
According to the chronology, sometime before the Passover in 29 AD (which would have been the fourth during John's ministry—the third during Jesus' ministry), John was beheaded by Herod. After John's disciples buried him, they came and told Jesus (Matt. 14:1-12). John's inactive ministry, while in prison apparently lasted just under two years. In summary, this makes the total length of John's ministry, active and inactive, approximately three years.